Having a global footprint is the norm in today's business environment. With the growing number of major economic centers found worldwide, it's common for companies of all sizes to have locations in multiple countries across multiple continents. This footprint comes with the burden of supporting more with less: to increase service levels while decreasing operating costs. I'm here to tell you that if you are in IT, then there's a key cost you may be missing: logistics and IT.
Understanding the Role of Logistics and IT
Many professionals think of Core Supply Chain as the mechanics needed to get their company's product to market. It's the "how" of going from point A to B. What they don't always consider is exactly how much this area can affect supporting business functions, such as marketing, facilities, and our target: IT.
Migrating or consolidating data centers? Refreshing laptops for your teams? Spinning up new facilities in Asia? All of these items can include a huge amount of supply chain cost hidden from view, and it can add up to material costs for your business unit.
I don't suspect your initial reaction at this point is one of shock. Moving infrastructure, racks, laptops, printers and more are a pretty common part of these efforts. What might surprise you, however, is the amount of savings you may actually be missing out on. Common air shipments for bulk materials can easily cost in the tens of thousands of dollars. Bulkier items can top hundreds of thousands. And if your teams are moving these bulky items at a normal shipping rate, they could be paying as much as 40% higher than a competitive quote.
To make matters worse, we all know that often times shipping is distributed across your departments: your networking team may procure switches and routers, while your user experience team manages laptops, and your data center team handles racks and servers. This means you potentially have overlapping efforts, multiple vendors, and duplicative processes.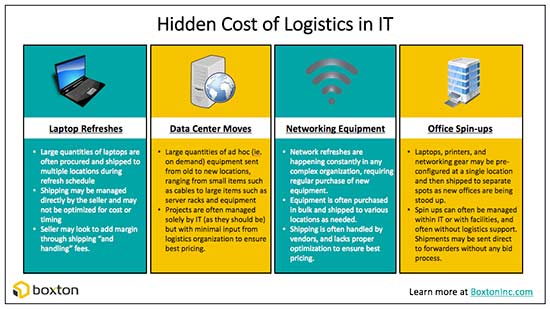 Removing the complexity of Logistics and IT
IT plays a unique role in any organization, and unbeknownst to most in the company, can often become incredibly complex in rapidly growth environments. Whether it's new acquisitions, new offices, legacy environments, accelerated growth, or even just a simple customer help desk, IT departments are all too familiar with the question "why can't we just have X." And the simple answer is (usually), because we can't rip everything out and start over.
Well I'm here to tell you with logistics and IT, you may have this ability. A simple solution you can deploy today is to begin routing all shipments through a single department. The owner can be anywhere, but ideally sits in your Office of the CIO, PMO or other central governing body. Simply start by funneling all shipping requests through a single entity so you can begin to track and understand the volume. Rip out the old process.
Once you begin to shed light on the issues, the next step is going to be to take advantage of better pricing. If you're not looking at 2-3 quotes for any shipment over $5K, then you're not shopping around enough. Forwarders have specialties just like airlines do, and routes that they service better than others. Don't assume that any one provider is going to give you the same rates as everyone else. You can find immediate savings by doing this.
Once you've consolidated your requests, and built your bid process for multiple vendors, the final step is to start consolidating data. Begin to understand where your costs are coming from, how far ahead of shipments are you getting, who's providing the best (and worst) service, and more. Understanding and reacting to the data can take your approach from decent savings to fantastic savings.
Or, get some help.
If the above sounds daunting, or you don't have the budget or bandwidth to take on a new exercise such as this, don't forget there are companies out there who are ready to help. A proper logistics optimization service provider is going to work with you to understand the details of the problems above, and then design a custom solution to meet your needs. Best of all, they are often paid based on performance. The more they save you, the better they are rewarded.
One way or another, whether it's a problem you fix yourself or something you hire outside help to address, don't ignore these costs and don't let them permeate your IT organization.
Logistics and IT: A New and Unexpected Cost Driver