Managing a multi-national supply chain is complex and cumbersome. It takes years of combined logistics experience to optimize a company's supply chain to get goods-to-market as fast as possible and at the lowest cost. While this work is never truly finished, most successful companies have engineered an optimal finished goods supply chain. So when it does comes time to evaluate potential savings measures, where do you look to reduce transportation costs?
Turns out, there may be an opportunity to reduce transportation costs in areas you may not be considering: your non-core supply chain.
Follow the Clues: Where are my missing transportation costs?
Logistics costs are incurred in everything purchased by your organization, but the area of focus for this exercise is anything shipped in bulk:
Your IT department is purchasing servers, laptops, and hardware to support the company's technical infrastructure.
Your sales function is buying large displays and time-sensitive signage.
Facilities is procuring office furniture and materials for new store front construction.
Manufacturing is buying components for your finished goods and machinery to equip your plants.
Even if these areas aren't purchasing these goods directly (let's say your goods are manufactured by an OEM or your furniture is being sourced by a third party) the costs of transportation could be substantial. Understanding these areas and identifying the transportation costs for everything they have procured, directly or indirectly, is where your treasure hunt will begin. Research shows that these areas can be over-paying transportation costs by an average of 30%.
The Buried Treasure: How do you size the potential savings?
Transportation costs are incurred by anyone in your organization who is doing substantial procurement. If you have a centralized procurement function, this is a great place to start. If purchasing is diffuse across your organization, you should target management in each function who have P&L responsibility. They are likely approving all major spend and have a vested interested in reducing transportation costs in order to allocate more of their budget towards achieving departmental goals.
Now the tricky part: In most cases, the logistics costs are imbedded in the actual product costs. You may need to have your teams go back to the initial purchasing documents or even back to their manufacturers to determine past logistics costs. This will also help you scope out the future opportunity.
Sailing Open Water: How do you fix the problem effectively?
First off, know that there are logistics management services companies who are geared towards fixing these issues and saving you money. They have the systems, expertise, and relationships with the top global shipping companies to reduce costs quickly and effectively. These can be very effective in addressing these ad hoc freight issues and solutions can often be implemented quickly
However, if this is something you'd like to manage in-house, you must make the process simple for your organization to solve. Always remember, the problem here isn't always clear and your stakeholders are your internal employees. If you require they spend too much time solving this problem, you won't be able to gain the traction within your organization to reduce costs quickly. Your solution for fixing this issue must be simple.
You also need to have a pre-established relationship with your freight forwarders so they can handle these "ad-hoc" requests. Employees should have access to a simple to use web portal where they can provide you the information you need in order to effectively bid this work out to multiple companies. And once the logistics for these project shipments is awarded to the lowest cost/highest performing transportation company, you need to have a team in place to manage any issues that occur between scheduling, pickup and actual delivering of the goods.
Lastly, you need to have an established freight audit and billing process to ensure you only pay the shipping company the amount they initially proposed for the project. This sounds simple, but many transportation costs can get inflated last minute by poor management in this area.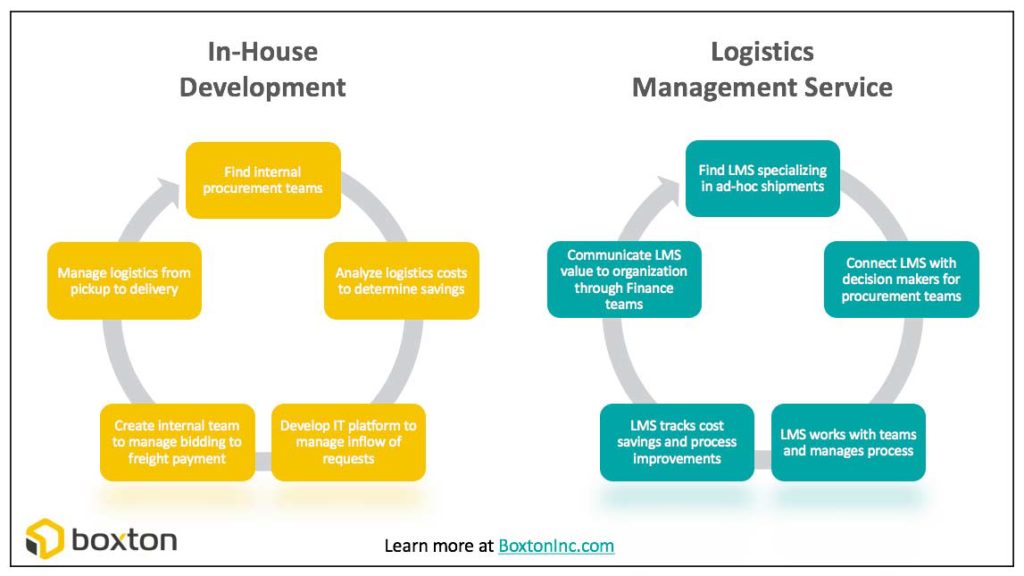 In Summation
The process for identifying and managing hidden transportation costs can be a daunting one. However, when an estimated 10% of a company's shipping costs are hidden in these supporting functions, the reward can be great. In medium to large companies, these hidden costs can add up. A company with $5 billion in annual revenue can be missing out on $75 million in cost reductions by ignoring this problem.
So start your own treasure hunt now and reach out to a logistics management services company with expertise in these areas to get started. Even if your long-term goal is to establish this process internally, don't wait to improve your supply chain tomorrow when it can be improved today.
Reduce Transportation Costs: Why it's time to have a Shipping Treasure Hunt