Previously, we've spoken about the importance of keeping your small parcel shipping accounts secure and how a centralized management system can cut the costs of "ad-hoc" shipments. This week I'd like to deep dive into one topic in particular: Mailrooms and how they may be less efficient than you think.
Mailroom Processes
First off, let's start with the obvious: there really aren't great off-the-shelf solutions in the current marketplace for managing mailroom operations efficiently in large enterprises. Many organizations are managing millions of dollars in shipping spend in multiple, global mailrooms on home-grown technology. The process is usually as follows:
An employee fills out a form with address and package information on a link found on a company's intranet
The employee then prints out that form and tapes it to the package
A mailroom employee gets that package, takes the information from the completed print out and hand keys the information into another system to print out a UPS or FedEx label
Here's where there could be inefficiencies:
Whenever someone is re-keying information into a system, mistakes could be made. Address information could be entered incorrectly, service levels could be wrong, or the wrong carrier could be used
There's no tracking – unless the original employee is given a tracking number, then they have no idea where their package is at any given time
You can end up spending more on shipping because the original employee selects a service level which they don't really need
Most organizations have trouble accurately reporting shipping costs by person/function. Is the legal department being charged accurately for all of their mailroom shipping? Is the marketing function using premium service levels and incurring excess costs?
With less control on costs and mistakes made in re-typing shipping details, these inefficiencies can be expensive. Your mailroom staffing is also probably higher since most of your employees' time is spent re-entering information into your label printing system.
So what to do?
The simple answer is control, and this is most likely in the form of better technology. All major carriers have some sort of API that you can use to connect into their system, and yet build your own platform that will help manage a proper approval process. At the very least you need to implement a process around your mailroom that allows you to track and address the items above. You should also run some analysis on the amount of time and spend you have in your mailroom – and identify the main culprits to help you devise a proper solution.
Or better yet – try out Boxton Parcel, our new module that helps you solve these issues without the need for you to develop and manage your own solution. Boxton Parcel allows you to manage all your carrier accounts centrally, print and send shipping labels from any employee's desk (no need for data re-entry), track all your packages in a single location, and have user level reporting and cost data. It's a great way to simplify the entire mailroom process!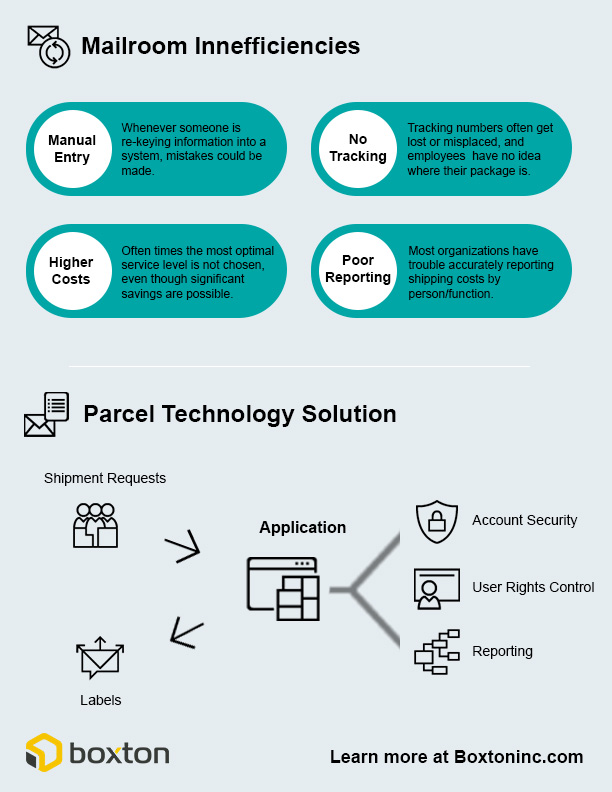 Your mailroom is a major opportunity for cost savings!