The Boxton platform has a series of automated workflows that send and request documents through links at the right part of the process. Here are some example emails
For Trucking, you will be sent a link in email to attach your BOL when you are awarded the work
For air and ocean, you will be sent a link asking for your Waybill.
When a plane or ship is due to arrive, you will be asked for an arrival notice via email
When an arrival notice is uploaded, the customs broker is automatically sent all customs documents and they will attach the cargo release. The cargo release will be sent to the forwarder.
Once a shipment is delivered, you will be asked for your invoice as well as Proof of Delivery.
Each time a document is sent out, it's attached to the email. Each time a document is requested, it will be via a link only you have access to. In all cases, there is no need to log into the Boxton platform.
Example Document Email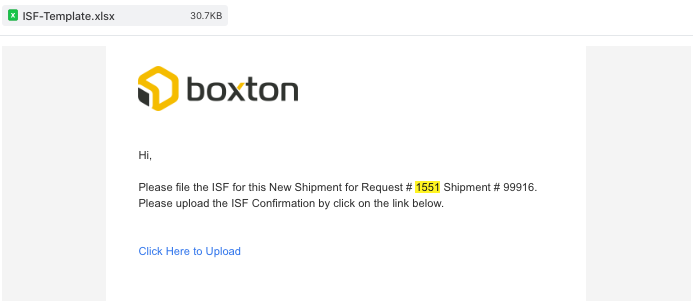 How do I manage uploading my shipping documentation and how will I receive the right docs?